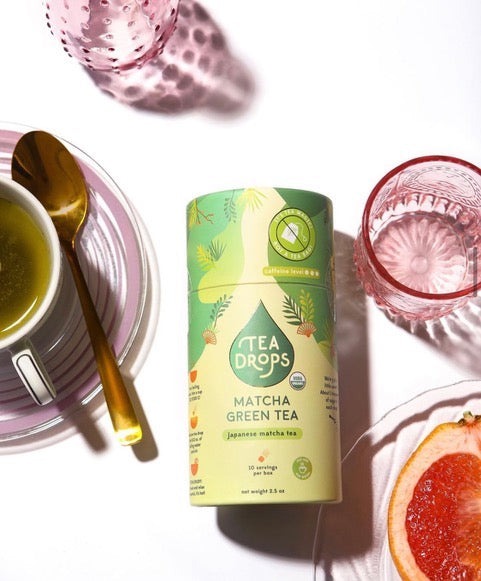 Tea Drops: Innovation in a Cup
Tea Drops is the newest way to enjoy a delicious cup of tea, without the waste of using a traditional tea bag or the mess of loose-leaf tea.
About Tea Drops
Tea Drops are organic, fair-trade, whole leaf teas that have been finely ground and pressed into a fun shape. There's no teabag; just drop one in your cup and add hot water. Or add ice and your favorite milk for a latte.
Tea Drops is a Woman-Owned, American made, innovative tea company, manufacturing organic, bagless, pressed teas, and is the brainchild of Sashee Chandran, founder and CEO. Before founding Tea Drops, Sashee worked in Silicon Valley, leading digital marketing and market research campaigns for Fortune 100 brands.
Sashee, an avid tea lover who comes from a tea-centric household (her Father is Sri Lankan and her Mother is Chinese), became frustrated with how difficult it was to prepare loose leaf tea at her desk. Preparing loose-leaf tea requires a lot of time and tools, so Sashee started experimenting in her apartment kitchen. And after much trial and error, Tea Drops was born.
How do Tea Drops work?
No tea bag is needed! Simply add a lightly sweetened Tea Drop to your cup and fill with hot water. The Tea Drop will quickly dissolve and you'll be left with a delicious cup of tea, minus any hassle. Tea Drops are carefully-crafted with organic, finely ground whole leaf teas and herbs that never fully dissolve.
Because of this, you'll notice some very finely ground tea leaves settled at the bottom of your cup. You can enjoy consuming these healthy antioxidants or they can be filtered out, or the final sip simply set aside. 
Tea Drops can be enjoyed as hot tea or iced tea. Although the classic Tea Drops require hot water, the new Unsweetened Tea Drops can be prepared in cold water, too. Whether you're having iced or hot tea, the steps are the same: add a Tea Drop to your cup or glass, and then add water.
Flavors and Varieties of Tea Drops and Where to Buy
Caffeinated or not, hot or cold, tea is a delicious beverage we can't get enough of! At myteadrop.com, you'll find teas based on the season (like Pumpkin Spice for Fall), teas for a sweet tooth (like Strawberry Shortcake), teas for those who're not into sugar so much (like Unsweetened Citrus Ginger), teas for energy and teas to destress – and so many more we can't even name them all. They even have Boba Bubble teas!
Check out all the varieties in the Tea Drops online store or in stores at your local retailer. Tea Drops can be found at Fred Meyer, King Soopers, Whole Foods Market Midwest, QFC, Albertsons (Texas only), Randalls (Texas only), Tom Thumb (Texas only), Natural Grocers, and many independent retailers as well. Go to Tea Drops store locator for more info.
Tea Drops Tea Club
A membership in the Tea Club means you'll get a monthly Combo Box delivered to you, filled with a selection of Tea Drops, exclusive tips, recipes, and some bonus freebies, just for you. It's a great way to try a lot of Tea Drops flavors to find your favorites!
Giving Back
In addition to providing a quality and convenient tea experience, Tea Drops is committed to its community by creating magical tea moments that connect you to what is important. That's why Tea Drops donates clean water, with every purchase, to a community in need, through the Thirst Project.
Tea Drops is an advertising partner.