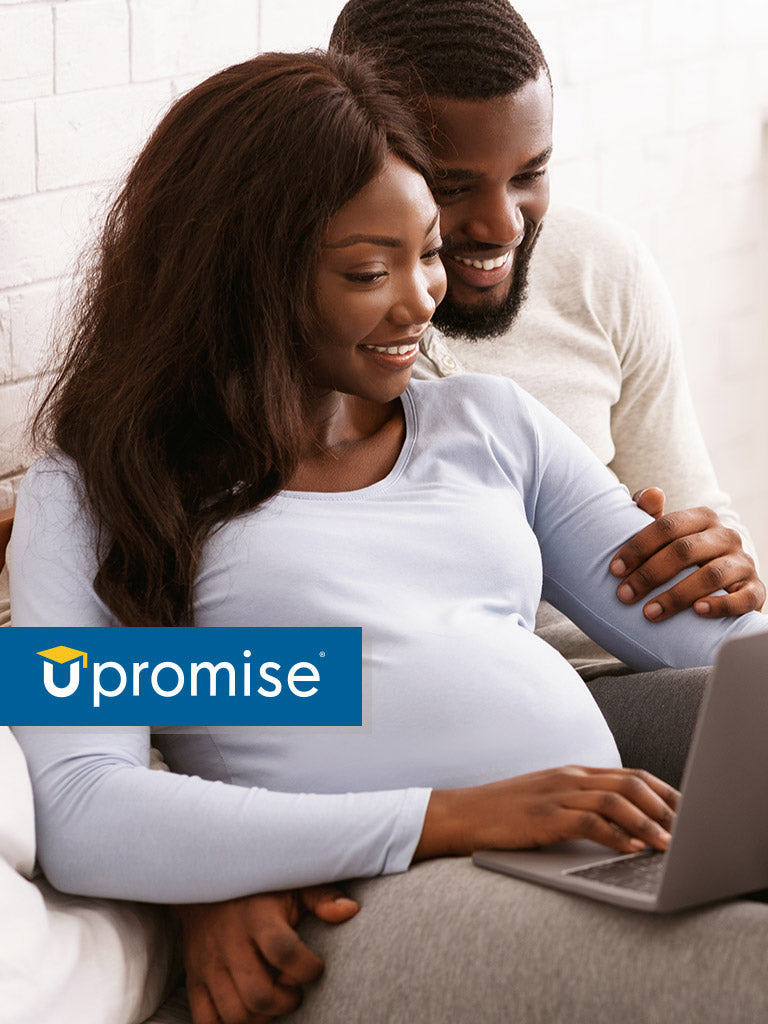 The Easiest Way to Save for College: Upromise
Start saving for college now? Yes. 
It might seem like it's way too early to begin saving up for college when you're pregnant, have a newborn or a toddler, but actually? It's the perfect time to start – and Upromise can make it very easy!
This article contains affiliate links.
We have partnered with Upromise to help you jumpstart your college savings plan because we think they offer the simplest – and easiest – ways to save. And because we know it's super important to get started early!
According to US News and World Report, the average cost of attendance for a public university ranges between $10,000 - $22,000 (depending on in-state vs. out-of-state), and the average cost of attendance for a private university is $38,000. And keep in mind – that's for only one year!
Multiply that by four years and you'll see just how large that number can be, and why we think it's smart to start saving now.
Luckily, signing up for Upromise is easy and free – and you'll start to rack up savings effortlessly, when you take advantage of all the ways Upromise helps you save.
>>> Sign up for Upromise now via our affiliate link and get $30 as a bonus to start saving! <<<
5 Ways to Save Money for College Using Upromise
Each of these aspects of the Upromise program will help you save money for a college fund, and doing all of them (or even several of them) will really get your savings into high gear!
1. Get cash back rewards when you shop online via their online mall
Simply click from the Upromise online Mall to the merchant of your choice, do your shopping like you would normally, and Upromise tracks it all. You'll earn money with each transaction, and that money will be stored in your Upromise account, even if you don't have a 529 college savings plan account started yet (see below for more info). Most of us do a lot of online shopping, especially around the Holidays, so this method is super easy. Bookmark their online Mall page so you won't forget!
2. Buy gift cards for merchants right on the Upromise website
Who doesn't love a gift card? It's a terrific gift to receive and a great idea for people on your gifting list like teachers, babysitters, co-workers, you name it. When you buy a gift card from one of the participating merchants via the Upromise website, you'll earn money that will be stored in your account.
3. Subscribe and save!
Like most of us, you've probably joined the Streaming revolution! Many of us watch movies and TV shows via subscription services like Disney+, and if you want to sign up with one of them, you'll receive bonus savings right in your account. In fact, signing up for the Disney + bundle (which includes ESPN) will earn you $8.
4. Scan your grocery receipts
We Moms probably shop at the grocery store more than anyone else, right? Even if you've planned ahead, there's always something you need last-minute (or maybe it's just me, LOL), and so you're running to the grocery store again. Scan those receipts and earn money every time you do. It all gets added to your account.
5. Upromise Mastercard
While it's not a requirement at all to sign up for a Upromise Mastercard to help you save for college, it's a great option we want you to know about. When you sign up for the card, and link your Upromise account to a 529 college savings plan, you'll start earning 1.529% cash back every time you use it, and that amount will be automatically added to your account, whenever and wherever you use the card.
Plus, you can "double dip" with the card, too!
What does double dipping mean? It means if you pay for groceries with your Upromise Mastercard, you'll earn the $1.529% PLUS you'll also be able to scan your grocery receipts and earn that money, too.
Ditto if you buy gift cards via the Upromise site and pay for them using the Upromise Mastercard, you'll earn money from both sources. You get the idea. It's a double bonus, and it's another reason we love this program.
How Easy Is It to Get Started Saving with a Upromise Account?
It's very easy to get started! Signing up is FREE, and in fact, you'll get a $30 bonus just for signing up! So really, it's not just free; they're actually giving you $30 when you create an account!
Sign up for a Upromise account now via our affiliate link.
Once you sign up, you'll have the option to connect your Upromise account to your existing 529 College Savings Plan account. Don't have one yet? No problem. Your money will be held in your Upromise account for you until you're ready. 
What is a 529 Plan and How Does it Work?
We reached out to Derek DeLorenzo, Senior Director of Upromise's 529 Plans to get the scoop.
"A 529 college savings plan is an investment product designed exclusively to help families save for college.  529 plans are issued by states and provide federal and state tax benefits as a way to encourage college savings.  529 plans are the most flexible and tax-efficient way to save for college. Many 529 plans allow you to invest as little as $10 per month."
"Your 529 college savings plan assets can be used nationwide for a professional, vocational, associates, bachelor's and graduate degree or an apprenticeship. Your savings in a 529 plan grow tax deferred and if the school has a Federal School Code on the Free Application for Federal Student Aid (FAFSA), then you can make tax-free withdrawals to cover qualified expenses there."
Testimonials from Happy Upromise Customers
We think Upromise is a great idea, but we don't want you to just take our word for it. Here are some quotes from members who have been using Upromise for years.
"I have had a Upromise credit card for about 15 years. We have transferred over $7,300 to my daughter's 529 plan just by using our Upromise card for the majority of our purchases (and being sure to pay in full every month).  How easy and amazing is that?!!"
"Great program. Definitely makes me stop and think where I'm spending my online shopping dollars. If a merchant is not on Upromise, I'm less likely to spend my $$ with them!" 
"This is basically "free" money for college.  Any concern about providing credit card information and generating unsolicited offers or incurring higher security risks are unfounded, in my experience. Sign up and add your family today. We've created $40k in college funds for my 16 year old through Upromise and related 529 plans. No brainer."
Hey, Milestone is an affiliate partner of Upromise.