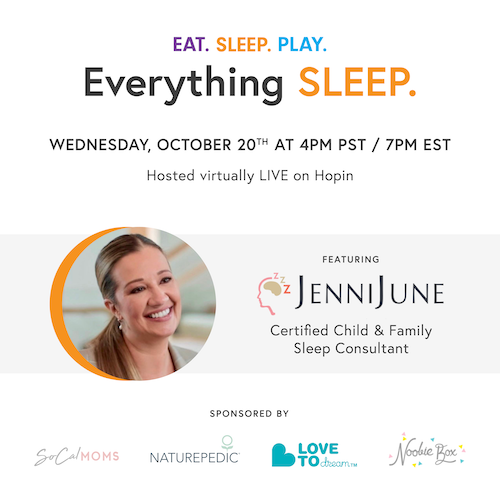 Eat Sleep Play - "Everything Sleep" Event Recap
Sleeping well is important for our health and well-being, yet most of us don't get nearly enough good sleep. Jenni June, a Certified Child and Family Sleep Consultant and Mom of 4, has spent her career helping kids and their parents get better sleep, and she joined us recently for a super informative event.
Get Access to Experts at our Events
Jenni gave a terrific presentation that outlined her 4 Pillars of Sleep Hygiene®, which are designed to help all of us get better sleep. (Not just our kids!) She also discussed how to handle the upcoming time change, and tips for regulating sleep when traveling, like many of us will do this Holiday season.
Jenni gave away a free Time Change Tip Sheet, and answered questions live from attendees, which is one of the best things about our events. Moms can interact directly with the experts and brand representatives we partner with to get personalized help for their unique situations.
Meet Kudos Diapers
Kudos Diapers are brand new, and they were founded by Amrita Salgal with a huge difference: the parts of the diaper that touch your baby's bum are made of 100% cotton. Amrita announced the launch of Kudos to our event attendees, and she also gave away free sets of diapers to some very lucky winners!
Giveaways
Speaking of Giveaways, we always give out Prizes at our events, and this time was no exception. A few lucky attendees won these terrific prizes: 3 Love to Dream Gift Sets, sets of Kudos Diapers, and the grand prize was an Organic, Lightweight, Breathable 2-Stage Baby Crib Mattress from Naturepedic.
Be sure to get on our mailing list so you won't miss out next event or giveaway!
When our kids sleep better, we can sleep better, too.
We know that getting our little ones to go to sleep easier, and to stay asleep all night, is the goal, and sometimes it seems like it's an unattainable goal! But Jenni June outlined simple steps for each of us to take to help make it happen for our families.
The steps are simple, but we acknowledge that they may not always be easy. When your child is fussy, or when you and/or your partner are tired, everything can be a struggle. But Jenni's tips and methods are helpful and comforting, and she works with you to find the best ways for your family to get the sleep they need.
Jenni June's New Sleep Training Course
We are such big fans of Jenni's science-based approach to getting good sleep that we've partnered with her to bring you her brand new online course.
When Jenni first started her business of helping families with their sleep needs, she was local to Los Angeles, so could only help families in Southern California directly. Now, with her new course, she can help families everywhere.
Get more information in our article about Jenni's Sleep Training Course here, including information about both the Lite version and the Elite version. 
Stay on our mailing list to find out about our next event or giveaway!
This article contains affiliate links.