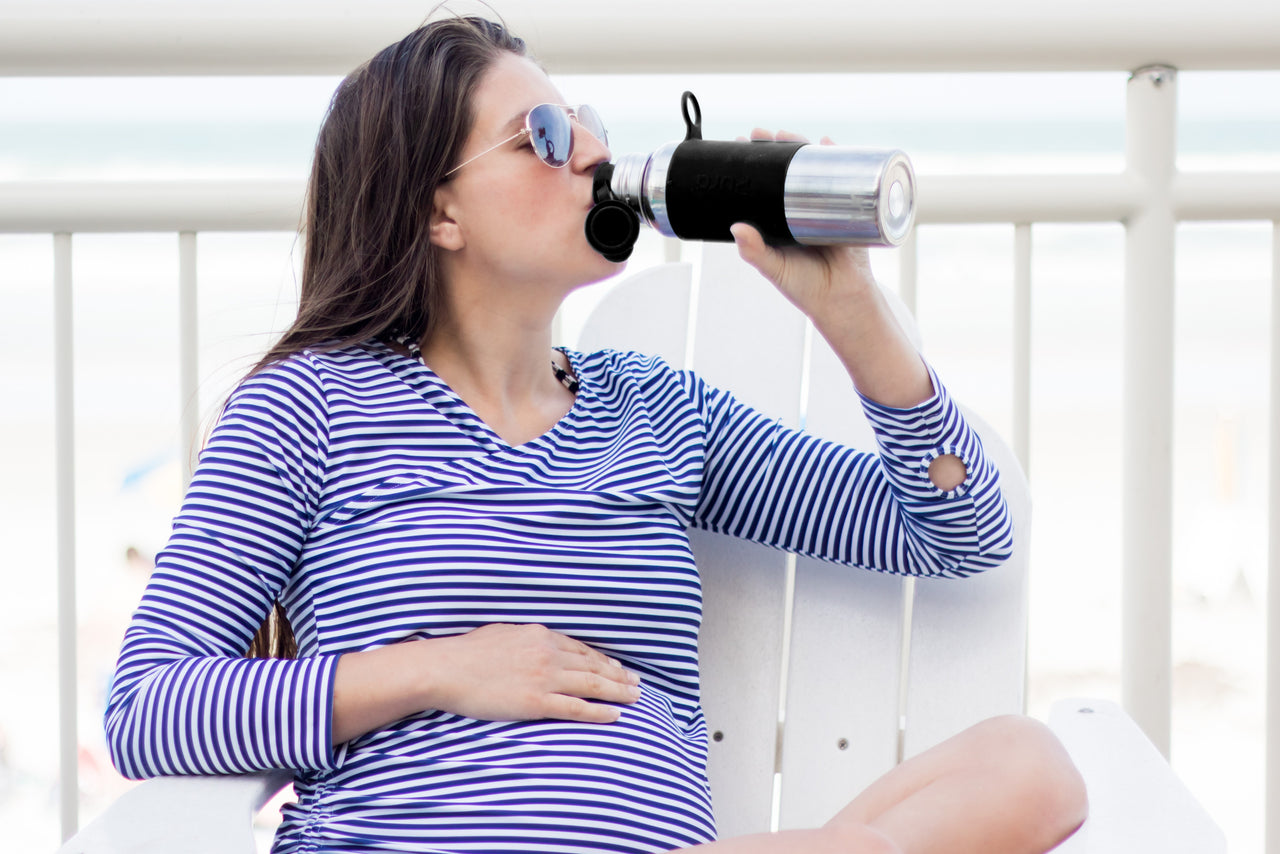 Stay Hydrated Through Your Pregnancy (And Beyond)
The average, healthy woman adult living in a temperate climate needs 2.7 liters (about 11.5 cups ) of water each day, according to The National Academies of Sciences, Engineering, and Medicine. 
Kristen S. Montgomery, a registered nurse, suggests adding an extra 300 milliliters (or 10 fluid ounces) to your water intake while pregnant. That means drinking 12.5 cups of water each day while you're expecting. Fortunately, it doesn't mean you're limited to just H2O. 
Below are a few ideas to help you get enough to drink without feeling overwhelmed. 
1. Bottle It Up
Keeping a reusable water bottle keeps ice-cold water at your fingertips. That way, it's easy to make sure you're drinking throughout the course of your day. 
And, when you carry your own bottle, you'll be able to skip bottled water when you're on the go! 
2. Get Fruity
Eating fresh fruits and vegetables can help you get to your daily hydration goal and help keep you from getting bored.
Fruits like watermelon (which is 91 percent water) and strawberries can be part of your daily hydration routine. Veggies like cucumber and iceberg lettuce are also great options, according to The Cleveland Clinic. 
3. Avoid Caffeine 
While many people avoid caffeine during their pregnancy anyway, doing this can also help you stay hydrated. Since caffeine is a natural diuretic, it can mean losing fluids faster than your body can absorb them. 
Staying away from caffeine helps your body take in the fluids you're drinking so you can get the maximum benefit out of them. 
4. Add a Twist
While regular water is what most people stick to when they're keeping hydrated, it can get a little… boring. 
If you're feeling bummed out with your simple sips, adding extras like lemon and mint or cucumber and basil to your water bottle can give your water a little extra oomph. 
Plus, it may just make you feel like you're at your favorite spa! 
 5. Diversify Your Drinks 
Sparkling water, pregnancy-friendly herbal teas, soup, milk (and alternatives made from oats or nuts), or homemade popsicles with blended fruit are all ways of adding variety to your hydration routine. 
Each body is different and you may find you need more (or less) water to keep you feeling your best. Still, how can you tell if you're drinking enough? According to The Mayo Clinic, people who are properly hydrated have clear (or pale yellow) urine and/or rarely feel thirsty. 
And, as always, your healthcare team is the best resource for making sure you have the right answers for you and your baby. Do not hesitate to consult if you have additional questions!