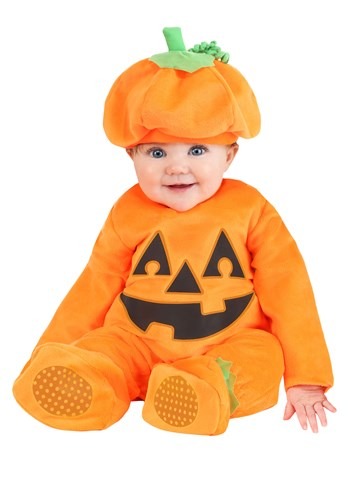 25 Cutest Costumes for Baby's First Halloween
This article contains affiliate links to the cutest costumes we could find!
The first time your baby does anything it's a reason to celebrate, but dressing up for Halloween is one of the best reasons around. Halloween is a super fun time of year, and if this is your first baby, get ready to find out just how big a holiday it has become!
If this is not your first, then you already know!
Halloween is seriously big business these days, with some estimates as high as $9 Billion dollars spent annually on everything from costumes to decorations to candy. It lasts a lot longer than it used to as well, with pumpkin patches springing up at the end of September in some spots.
And now it's time to introduce your baby to it all!
Cutest Costumes for Baby's First Halloween
These costumes are by far the cutest we've found! And you can shop for them via our affiliate links. Happy Halloween!
Posh Peanut Plush Unicorn
Because your baby is one of a kind!
Posh Peanut Odet Swan
Ballet lessons can't come too soon!
Infant Leopard
Too Wild!
Posh Peanut Archie Bear
With a top hat!
Posh Peanut Baby Bumblebee
It's the Buzziest!
Posh Peanut Baby Leo the Lion
Roar!
Lil Monkey
Just monekying around, eh?
Hot Dog Bunting
Take them out to the ballgame in this one!
Precious Peacock
Shake those tail feathers!
Wonder Woman
She's an Amazon!
Captain America
King of the Marvel Universe!
Goldfish
Not quite Nemo, but close!
Ear of Corn Bunting
Deelicious!
Infant Peanut
Isn't that what you call him anyway?
Stay Puft Marshmallow Baby
Who ya Gonna Call?
Cuddly Cappuccino
We love our coffee!
Baby Skunk
Stinky-poo (and adorable)!
Baby Shark
We had to.
Tiny Tentacles Octopus
Cutest cephalopod on the block!
Baby Cowboy
Boy Howdy Hey!
Abominable Snowbaby
Welcome to the Himalayas!
Baby Bandit Raccoon
Just so cute!
Baby Hugs and Quiches Chef
Dinner is served!
Pee Wee Pirate
Arrr Matey!
Astronaut Tot
Get ready for liftoff!
The Classic: Pumpkin!
Because they are your little pumpkin, aren't they?
Celebrate Baby's First Halloween
How much of the Halloween festivities can your baby really participate in? They're too young for candy, so they won't be going trick-or-treating, but that doesn't mean they can't get dressed up! The neighborhood kids will love coming to your door and seeing your baby in costume, too! (And so will everyone else.)
Since the Halloween season runs for weeks leading up to October 31st, you may be invited to Halloween parties thrown by friends and family, or you may be hosting one yourself. Your little one is going to need to be dressed up like all the other kids, right?
Or what about visiting a pumpkin patch or a local Harvest Festival? That's another dress-up opportunity. Even if they're in a stroller, they will look even more adorable if they're dressed up for the season.
And on the big night itself, even if they can't sample the candy yet, they can be there with you as you hand out treats to all the little ghosts and goblins as they come to your door on Halloween night, right up until it's their bedtime. Happy Halloween!
This article contains affiliate links.