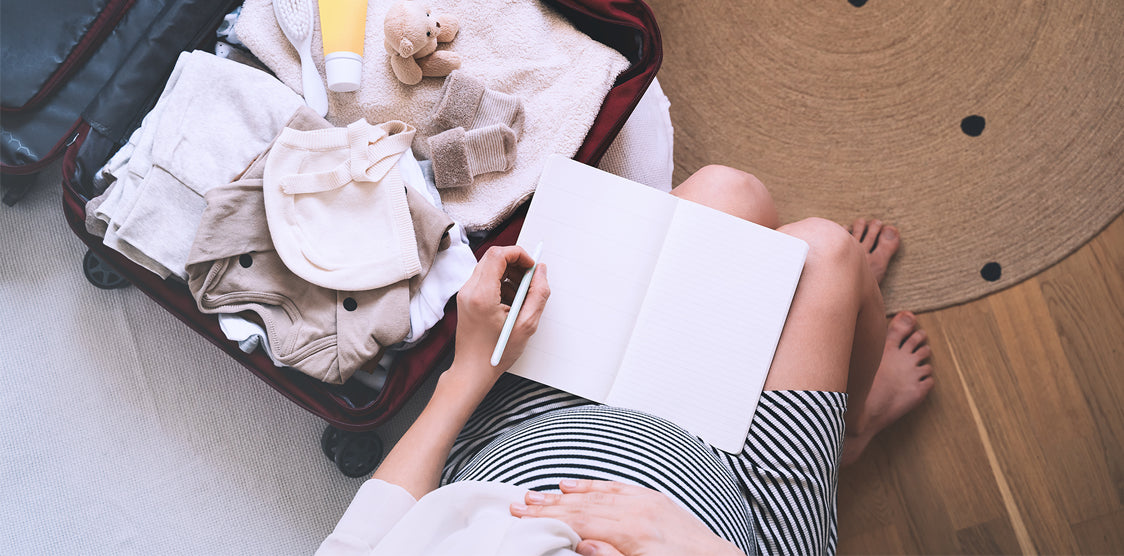 The 10 Must-Haves When Packing Your Hospital Bag!
Wanna avoid packing up during contractions?😅 Don't fret, you've got this & we can help! 
This article contains affiliate links.
We asked our friends over at The Tot what their non-toxic hospital bag essentials are! Here's what they had to say...♡
1. Face Masks & Hand Sanitizer 
Oh the joys of covid! While your hospital or birthing center may require you to wear one of their own masks and/or face shields while laboring and delivering, be sure to have 2-3 extra masks on hand for recovery. If you only have one or two, you can hand wash. We recommend opting for a natural-as-possible like this hand sanitizer by Loli Beauty.
2. Hospital Gown
We are obsessed with these Petite Plume's hospital gowns. Designed with both front and back access, laboring, breastfeeding and recovering in comfort is an absolute breeze. 
3. Home Comforts
Things like a heading pad, hot water bottle and some organic massage lotion will go a long way to ensure you're comfortable and relaxed.
4. Non-Toxic Toiletries 
Use natural and organic personal care products where possible. The last thing you or your baby need is to be exposed to harsh chemicals often found in toiletries. 
5. Feeding Pillow
Your back will thank you as you learn the best feeding position for you and your baby. We love this feeding pillow's body-hugging arms to ensure the pillow doesn't shift.
6. A Journal
Take a journal and pen, like this Memories From your Mother Journal. You won't have this time again and even if some details will remain acute forever, some things you will forget. Remember to brag on yourself for delivering in a pandemic!
7. Breathable PJs
Having soft and comfy pajamas may be just the thing to help sleep come easier. Opt for button-down style pajamas to make breastfeeding or tending to a c-section wound hassle-free. 
8. Non-Toxic Diapers & Wipes
Hospitals usually supply newborn diapers, wipes and creams for those first few days, but they tend to be harsh on baby's sensitive skin. Look for safer diapers that are free of harmful ingredients and chemicals.
9. Baby Clothes
Remember newborns aren't very good at regulating their temperature and usually need one more layer than adults. We love the baby clothes basics by HART+LAND for their buttery soft, hypoallergenic fabrics.
10. Infant Car Seat
An absolute must-have! Ensure it's safely installed by taking it to your local fire or police station for inspection.
Head to The Tot for more tips/tricks!
♡ 
This post contains affiliate links. We are paid a small commission on purchases made via these links.