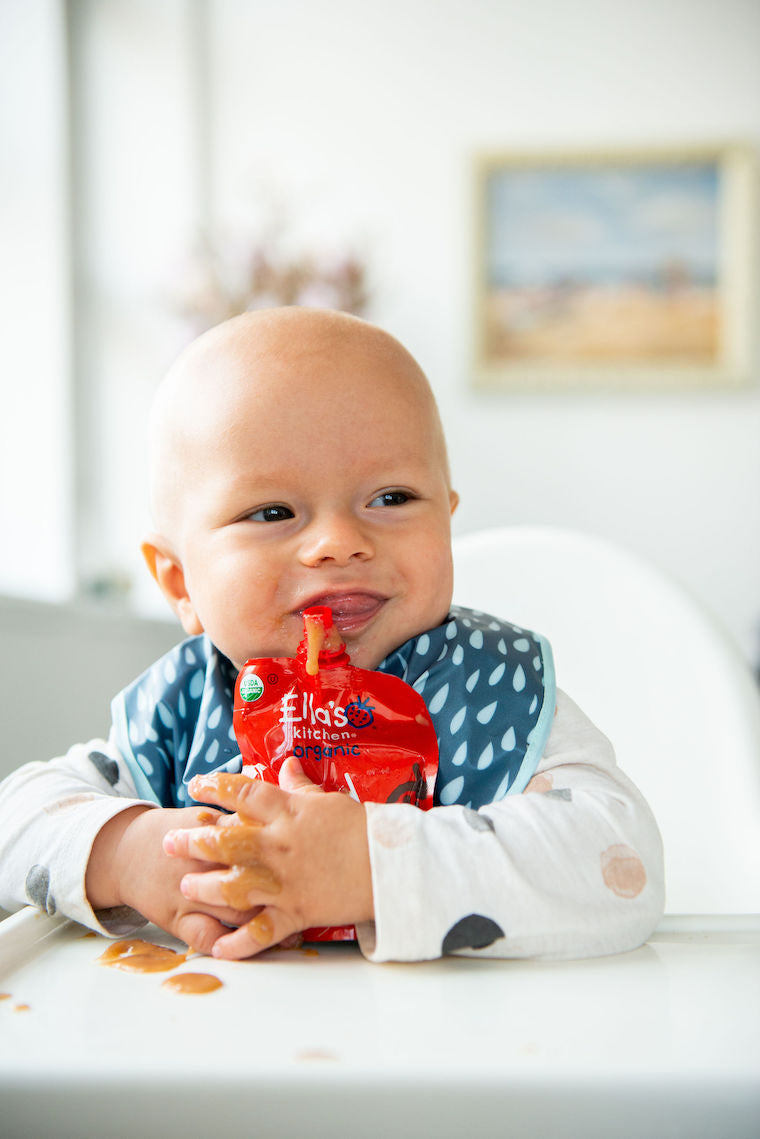 The Best Baby Food Samples: Delivered to You
When you're ready to start feeding your baby table food for the first time, you'll need to have a set of essential food gear on hand, plus you'll need to have some baby food. (Right?) You have a lot of choices when it comes to the type and brand of food you can serve your baby, and it can seem overwhelming.
Baby Food Samples to the rescue!
Samples give you the chance to try out a new brand or new food and see how your baby likes it before committing to buying a lot all at once. Samples offer a chance to discover new products that may become your next favorite things! And when it comes to feeding your baby, that's an especially good thing.
We work hard to curate boxes with samples for pregnant moms and new moms, and it's our goal to find you the best things for you and your family to try. We source must-haves for Moms, sweet gifts for babies, and healthy food options, too.
Redeem your FREE Family Nutrition Sample Box now! It's filled with Baby Food Samples and Toddler Food Samples!
Benefits of Getting Baby Food Samples
Trying sample products is the perfect thing for smart, savvy Mom consumers. It's a low-risk proposition, first of all. You'll get the product shipped to you so you can try it out when you want.
Plus the samples we send are free, and who doesn't like free stuff? We only charge you a shipping fee, and when you receive your box, you'll also find special offers from the brands in the box. Which means if you like the product samples as much as we hope you will, you'll be able to buy more at a discount with either a promo code or a coupon.
Samples mean less waste. If you try a new baby food sample pouch, and your child doesn't like it very much, let's say, then you won't feel like you've wasted money or the product. Or let's say you wanted to try a sample from a brand you can't find in your local shops. You could order from their website, but you might have to get a big supply when you do. Our box will deliver you just one sample from that brand you can let your baby try.
We are a product discovery platform, which means we want to bring you samples to try from brands and products that may be new to you. That's the goal: to deliver you baby food samples from companies you may not have heard of, but that we hope will soon become your new favorites.
We like to get out there and try new things, and we select the things we think are the best to add to our sample boxes. We fill the boxes with our picks for your family. And the best part is, when you get one of our Sample boxes, it's FREE. You'll only pay for shipping.
How Can I Get baby Food Samples?
We've got you covered! Our Baby Food and Toddler Food Sample Box is filled with curated samples from brands we know and love. And trust. Just click over to our store and get started on placing your order.
The box is always being updated with new items we've found. No matter when you place your order, the box will always be filled with terrific items for you to sample, but the exact items can change from month to month.
Are you pregnant? Redeem our famous FREE Pregnancy Sample Box now! 
Free Baby Food Samples
Yes, they really are free and you can have them shipped to you. We work with brands and companies that want to get their samples into the hands of savvy consumers like you. That's how we're able to make the boxes free, and just charge for shipping.
We think FREE is a good thing! So we're committed to always making the samples we deliver free – and we're always trying to make our shipping charges as low as possible. We promise you'll always be getting the lowest price on shipping we can possibly charge.
Healthy Baby Food Samples
We work with the top brands in the Family Wellness space and are always on the lookout for the newest healthy baby food samples to share with you. Your baby's nutrition needs are super important to us, and we know they are to you, too.
Some of the baby food samples in our boxes are organic products, some are vegan, and some are vegetarian. Some of the samples are from products made with goat milk, some are plant-based nutrition products, some may be dairy-free, or gluten-free. Each sample in the box will give extensive product information, so you'll know before you try.
Experts believe a baby's diet should be filled with many textures and tastes as they start to eat table foods, so we will always strive to bring you a box filled with healthy baby food products.
How many baby food samples do I need?
We think, at any one time, you just need a handful of samples around for your baby to try, for a few reasons. First, you don't want to overwhelm your baby with too many things at once, so it's a good idea to introduce maybe only one new food at a time. Then see how your baby reacts. Maybe it's her new fave food! Or maybe not so much. That's part of the fun!
Also, food samples don't last forever, and in fact it's a good idea to check the "Best By" date on the product as soon as you open your box. Since you can't keep the samples around too long, the best idea is to order your box right when you're ready to have your baby try things, and not too far in advance. That way you'll try them at the peak of their freshness, and you won't have too many on reserve.
We've worked hard to create a box that's filled with healthy baby food samples, but one that's not over-filled with so many items you won't be able to try them in time. So when your box is delivered, get ready to start feeding your baby and see what they like best!
Are baby food samples worth it?
We think baby food samples are totally worth it! Instead of buying something you'd like to try, finding out it's not right for you or your baby, and then realizing you've wasted money and the product itself, baby food samples let you try for free. And if you and your family like the new product, you'll find special offers to make buying it again more affordable.
We think it's a great way for consumers to discover new products and new brands before they commit to spending too much money. Give it a try, then, if you like it, you can always buy more. And if you don't like that product after all, then you aren't stuck with a shelf full.
And read about all the products in the current Baby Food Sample Box here!