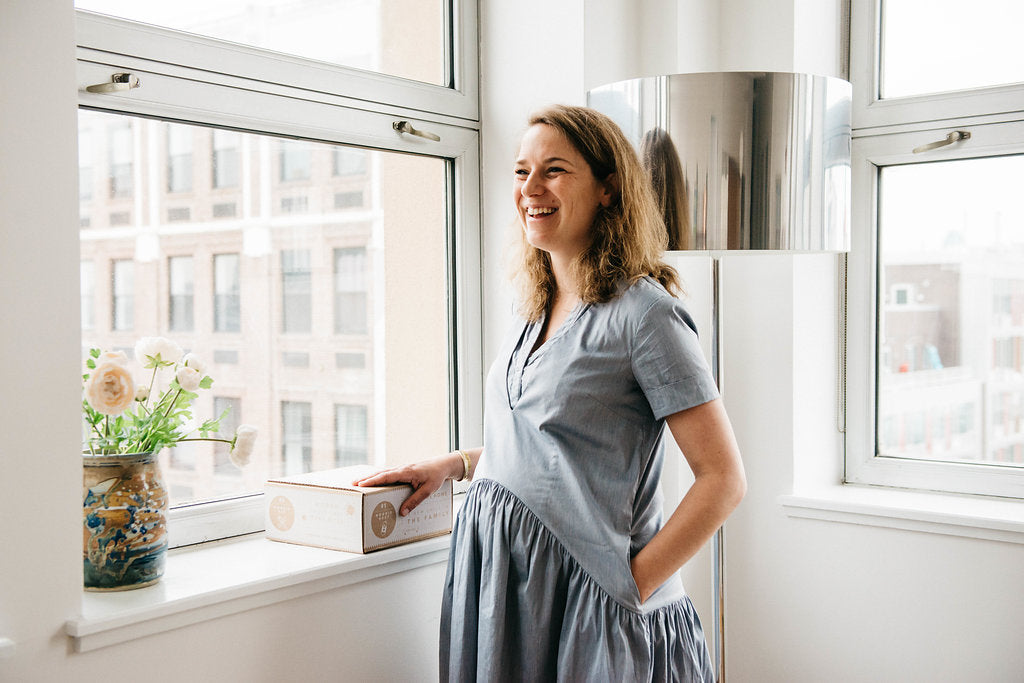 The 411 on Throwing Virtual Baby Showers
A baby shower is your moment to celebrate this exciting milestone with your loved ones. And, with a little planning, a virtual shower can be just as special and meaningful as any face-to-face gathering would be. 
Figure out who's hosting
According to The Emily Post Institute, "Traditionally, close friends, cousins, aunts, sisters-in-law, or coworkers of the mother-to-be hosted baby showers." 
It's wonderful if a friend or family member has offered to host your shower. But, in these extenuating circumstances, it's totally fine to organize your own party. 
If you want an assist with the planning, feel free to ask your partner, siblings, parents (or in-laws), or friends to help. 
Decide on the guest list
Like any gathering, deciding who should be invited will help you figure out the remaining details. 
Do you want it to be women only? Or do you want a co-ed shower? Whatever fits your vision is the right move. 
And, since this will be a video call, keeping the size limited can help cut down on cross-talk, lagging video, and other congestion during your party. 
Pick a date
Showers are typically given one month to six weeks before the baby's due date. However, some people prefer to do a "Sip & See" event after the baby is born. Choose whichever style works best for you. 
Either way, you'll want to aim to have your invitations sent out three weeks before your event (according to Emily Post). 
Choose a platform
Depending on the size of your party, you may consider different options. GoogleHangouts allows up to 25 people on a video call, while Zoom accommodates up to 100 video callers for up to 40 minutes. 
You may also choose a platform tailored to online baby showers, like Web Baby Shower. "We're creating a new rebate program for anyone looking for a safe yet intimate alternative baby shower due to coronavirus," the company's site says. 
Web Baby Shower is even offering a coronavirus-related rebate, which takes a discount off the $80 price tag. 
Create your baby registry
If you haven't already, a shower is a perfect time to create a registry of items you might still need. Be sure to check out our top picks for small items that make a big difference for new parents!
Just make sure to wait until someone asks for your registry information before sending it to them. 
Send your invitation
Paperless Post, Evite, and Greenvelope have beautiful online invitations (both free and paid). 
You may also choose to create a Facebook event to ask people to participate. 
Whichever method you choose, just make sure to send your invitations three weeks before your event. 
Choose your decorations
Creating a festive environment is a fun way to bring the celebration to life — both for yourself and guests! 
Balloons and streamers can make a fun backdrop for your video chat. Banners, garlands, tassels, pom-poms on a string — let your imagination run wild!
You can either order these from an online vendor or DIY your own creations. 
Party!
On the big day, log on at the designated time and celebrate with your guests. 
Whether you choose to do party games or decide to have a low-key chat with your guests, this is a time for taking in the well-wishes from those who are most important to you. 
Don't forget to say "Thank you"!
"Thank-you notes should be written for baby shower gifts, and the wise expectant mother or father writes them as soon as possible," says Emily Post.  
"Even when the giver has been enthusiastically thanked in person and has told the new parent not to bother with a note...a note is still always appreciated, if not a must."
Aim to write and send these within two weeks of the party, especially since you may not have as much time or energy to write these once your baby arrives.