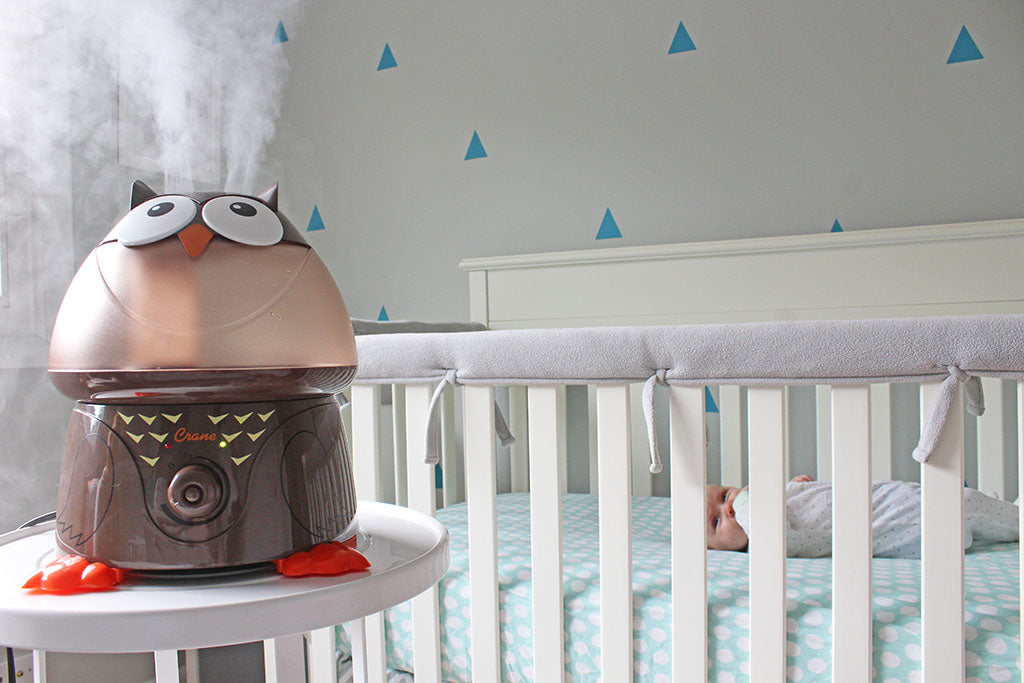 Prepare for Peaceful Nights with Your Newborn and Crane
Have your mom friends scared you into thinking you won't get any sleep after the baby comes? Try not to panic. Your friends are just trying to prepare you for the worst.
We are happy to tell you there is a way for you and your baby to get a good night's sleep! Newborns are obligate nasal breathers, meaning they breathe only through their nose for the first 4-6 months. Being obligate nasal breathers makes babies extra susceptible to congestion, and when babies are congested, they have a hard time breathing, feeding, and sleeping. This struggle can be very hard on mom and baby, but Crane Humidifiers are here to help!
By using one of our humidifiers every day, you will add moisture to the air, which will help to relieve any congestion your newborn may have.  Clearing those tiny little noses will make it easier for your baby to breathe, feed, and of course will also help them sleep better, which means more sleep for you too.
Crane's Drop Shape & Adorable Ultrasonic Cool Mist Humidifiers provide up to 24 hours of soothing moisture to help relieve the effects of dryness and congestion. 
Not only are the designs stylish or adorable to fit in perfectly with your décor, but are also designed to help you and your family breathe easier and sleep peacefully through the night (and can even reduce snoring).  Crane Humidifiers are also easy to use, whisper quiet, do not require the use of filters, and are equipped with a built-in automatic shut-off feature that engages when the water tank is empty for added safety. 
Humidifiers can also help battle the effects of many common nuisances brought on by winter heating such as dry skin & hair, static electricity, peeling wallpaper, shrinking wood, and cracks in paint and furniture.
Pediatricians recommend cool mist humidifiers instead of over-the-counter drugs for children under the age of 6, since humidifiers provide natural relief from congestion in your baby's nose to help them breathe better from day one and on!  When we feel a cold or the flu coming on, the first thing we tend to reach for is a box of tissues, a warm cup of tea and some cold medicine… but the next time you or your family starts to sniffle, try turning up the humidity with a Crane Humidifier and feel the relief from those cold symptoms naturally.
About Crane
Here at Crane, we put "Design for Better Living" into everything we do. Crane products are designed with efficiency, function and style in mind. We love to be creative with colors, designs and we know our products will bring comfort and smiles to your home! While Crane has a wide range of products from heaters to fans to air purifiers, Crane humidifiers are new parent favorites. Crane humidifiers help add humidity to any room in your home and will help relieve congestion to keep your family healthy.