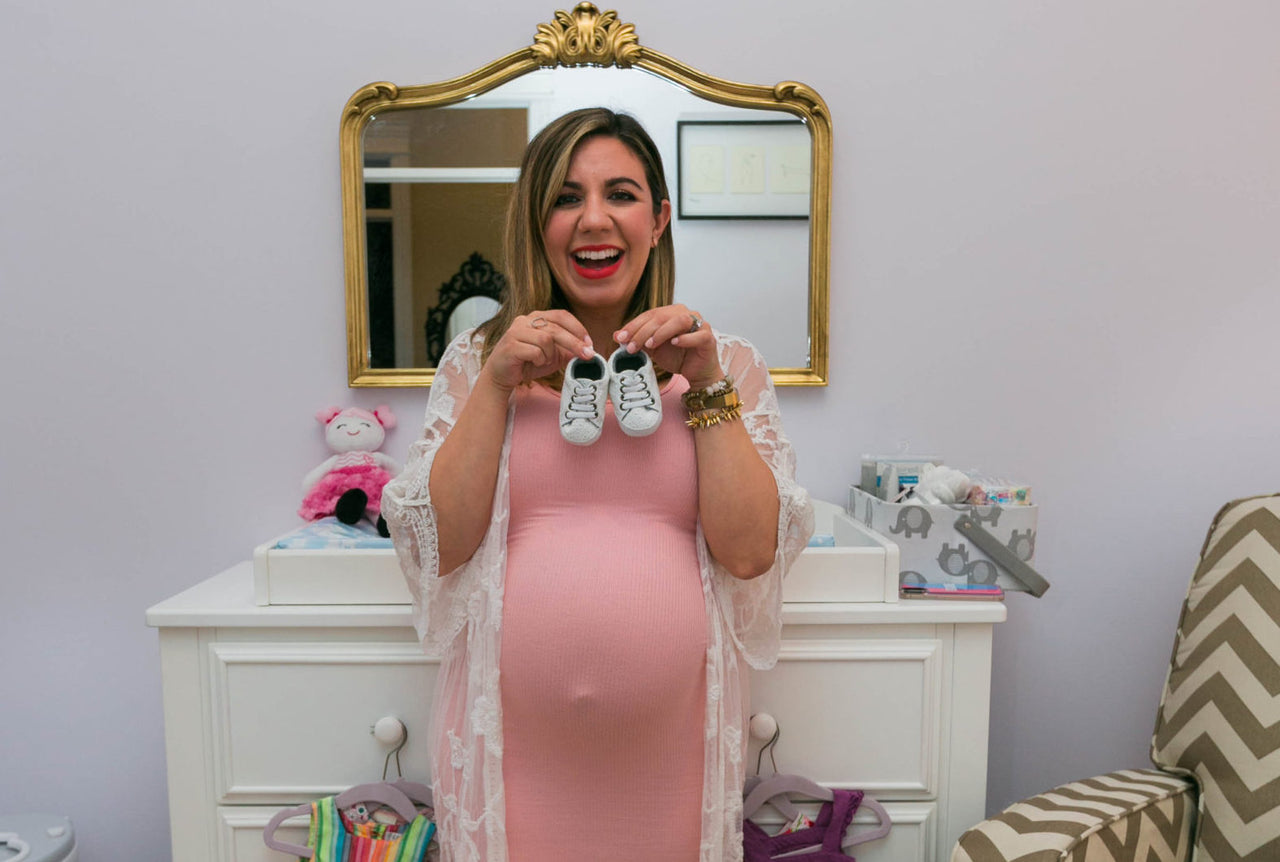 Nursery Interview with Roxanne of @glassofglam
NAME: Roxanne Birnbaum @glassofglam
AGE: 31         
KIDS: 1 baby girl
WHEN DID YOU START DECORATING YOUR NURSERY?
I started planning, collecting decorations, and ordering furniture when I was 6 months pregnant. I actually started painting and decorating the nursery when I was about 33 weeks/7 months pregnant.
WHAT OR WHO WAS YOUR NURSERY INSPIRATION?
I got a lot of nursery inspiration from Pinterest and Instagram!
WHAT LOOK/FEEL WERE YOU GOING FOR WHILE DECORATING YOUR NURSERY?
I wanted a calm and fun environment that made me smile when I walked into the room. I chose some whimsical elements to reflect my personality!
WHAT IS THE THING YOU CAN'T DO WITHOUT IN YOUR NURSERY?
I have a wipe-down fabric on my changing table that makes such a huge difference! Babies have accidents, so being able to wipe down the mess rather than do a load of laundry eliminates so much stress for me.
WHAT DO YOU MISS IN YOUR NURSERY?
I wish I had more closet storage! But then again, what city-living gal doesn't?!
WHAT ARE SOME OF YOUR FAVORITE NURSERY SHOPS AND/OR BRANDS?
I love Delta Children's furniture, dock-a-tot, Desenio art prints, and Wayfair! I also have a rug from Lulu and Georgia that I love!
WHAT DO YOU RECOMMEND TO NEW MOMS WHEN DECORATING THEIR NURSERY?
I recommend hiring someone to paint, assemble complicated furniture, and/or hang large pieces like mirrors and art. I wasn't able to do a lot of these things myself when I was pregnant, and my husband works a demanding job so he didn't have time to do it. Hiring someone would have made the process so much easier!
I also recommend resisting the trends. Just because a certain decor look is trendy doesn't mean it will make you light up when you walk into the room. Trends tend to come and go, so try to decorate true to your style aesthetic. You and baby won't regret it!