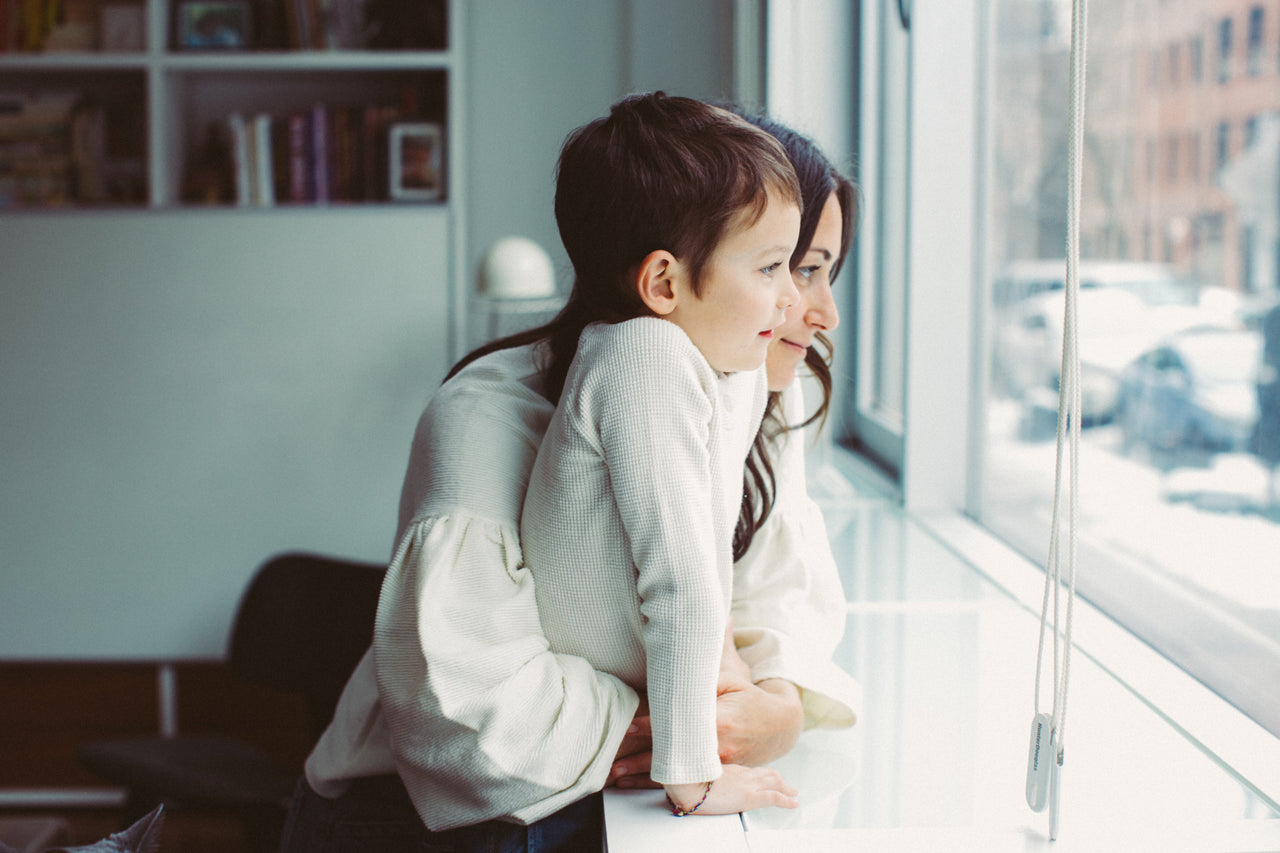 Mika tells us all about the first year with her baby
Occupation
Founder of MOLOCO, a swimwear line for breastfeeding mamas + beyond
A few questions about the first year with your baby. 
What was your feeling the moment you just came back home with your newborn? 
Honestly, I suffered from postpartum pretty badly. I had also had an unplanned c-section, (not emergency, but unplanned) and was healing on a physical level as well. Now looking back, I think I was truly in a state of shock. I was a happy pregnant person but a very overwhelmed new mom.  
What & when was the first time you did something just for yourself again?
When I cleared the 8 week mark, I went back to my first yoga class again. I got full body chills as we OM'd at the beginning of the class, as it felt so good to be back in that kind of environment, and with time to be with myself.
Name the thing your partner is the best at doing with your child. 
As our son is now 6, my husband is amazing at having these earnest heart-to-heart talks with our son. He travels a lot for work, so it's really heartwarming to see him put on his daddy hat see them connect in their own special way.
Did you nurse your baby? How did that go for you in the first weeks & months? 
I exclusively pumped for 14 months. There is more to that story, as I struggled hard with breastfeeding, and basically cried every day for about three months while I was continued to try. Ultimately, I was absolutely adamant about him having breastmilk, and because I never quite found my groove with breastfeeding, I exclusively pumped.
Or how did (or do) you deal with sleep in the first few months? Did you sleep train?
Our son slept in our room, and next to our bed for the first 7 months of his life. We lived in Mexico from when he was 3mo-6mo, and it was only when we came home that we built his crib and had him start sleeping in his own space. I told myself that I wasn't going to do any kind of sleep training (if at all) until we got back from living abroad… but as we all know, things don't always go according to plan when it comes to motherhood!
At around the 6 month mark, (and just about a week before we were coming home), Jonah would not stay asleep! It didn't matter what we did, he would fall asleep and then wake right up. I would feed him, he would fall asleep in my arms, and then immediately, up again! We started bringing him into the bed at that time, and when that didn't work, and I was losing my mind(!) we decided to try the Ferber Method. 
One of my dear friends had a great experience with it, and she urged us to try it. On the first night, she stayed on the phone with me throughout the whole process, offering support and insight as we began. The first night, I fed, changed and burped my son, put him in his bed awake and then left! He cried for 17 minutes, and then fell asleep and stayed asleep until 3am which was a new record for us!!! We stayed consistent with the method, and it worked! Jonah is still a great sleeper now!  
How did you deal with the first time you left him/her for the day? One tip for new moms?
I think when I finally left and went out by myself, my parents were watching my son for me. I felt 100% secure and trusting of their care for him, and I left confidently and was able to enjoy my time away. I think I would tell a new mom to find the support and care that feels right and safe with, so when she decides to (or has to) leave or go back to work, it makes the transition feel "easier" or more doable.
How/when did you start on solids? Do you have a fun story about first meals?
We started on solids at around 5.5 months. His first food was mashed up avocado! He was surprisingly excited to get the food into his mouth, but then didn't know what hit him when he experienced the newness of the texture and taste! It was funny and cute for us, but not sure he was laughing back then! 
What makes her/him laugh the most?     
When he was a baby, I think he laughed the most and silly faces and sounds. Peek-a-boo what a big hit too!
What's your favorite game to play currently?  
We love a whole slew of board games now. Monopoly, Twister, Uno, Go Fish… and the list goes on!
What was her/his first word? How did it make you feel?
I'm pretty sure it was mama or mumumumum! Every new thing he did (and still does) makes me so excited and happy. We truly get to experience things again for the first time through the eyes and experiences of our children!
Name one thing that you did as a parent, you thought you would never do!
No shame, we all did something crazy :)
I never thought I would be so strict about naptime and sleep! I was 100% convinced that I was going to be easy breezy about it all… a chilled out mama! Yeah right! Once we got the hang of a nap schedule and bedtime routine, we stuck to it, no excuses! It was the best thing we ever did as consistency and routine is good for everyone!