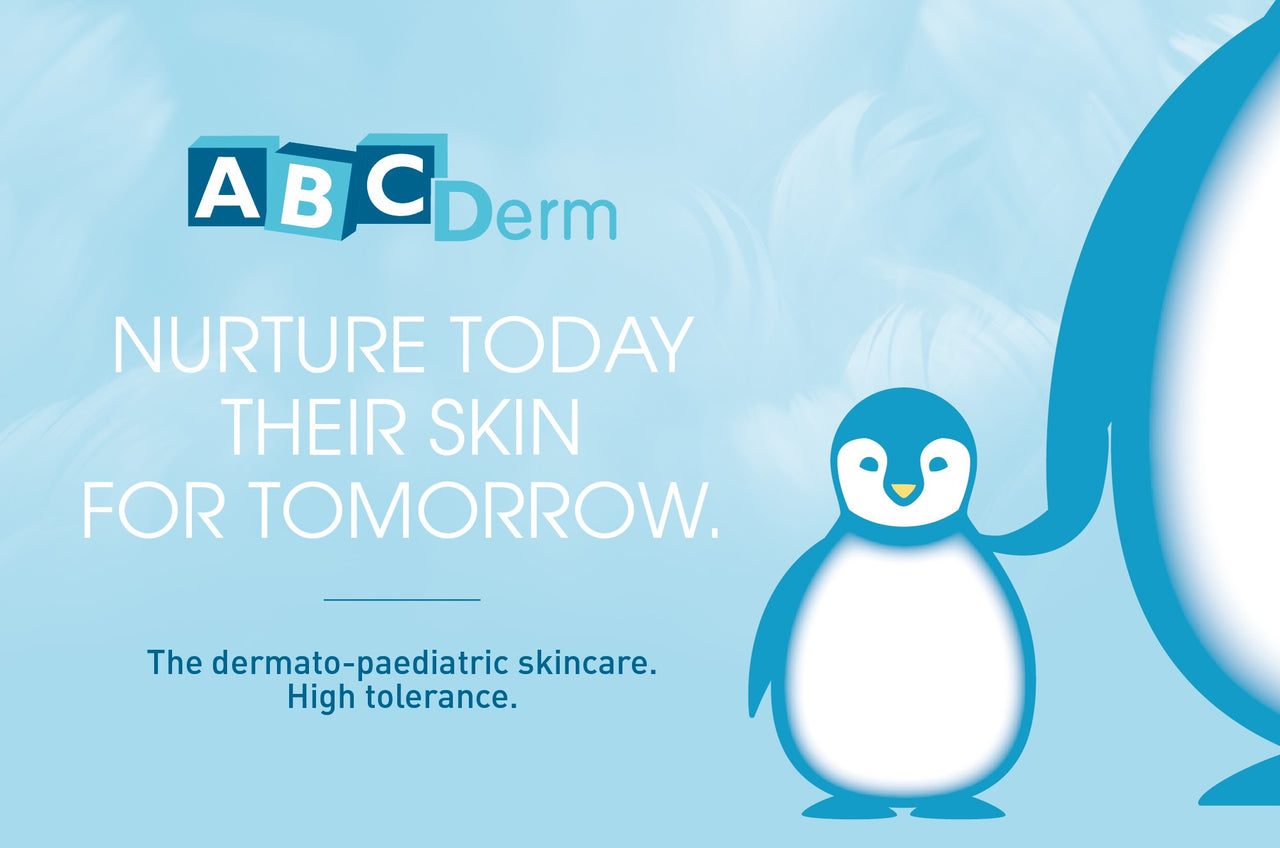 Understand baby's skin to take better care of it
ABCDerm - Dermatological expertise at the service of youngest
The skin of babies and children has specific characteristics that make it more fragile and more sensitive. It therefore requires special attention and care so it can remain healthy and adapt to its environment. It is also important to distinguish between the needs of an infant up to the age of three months, a baby up to the age of three years, and a child, from the age of around three years to 10-12 years. In general, cleansing and care products for adults should not be used on the skin of infants and babies.
 TO TAKE CARE OF MY BABY
 ABCDerm - Cleansing Milk

A non-rinse milk for gently cleansed skin

Product Benefits

Effectively eliminates dirt particles while leaving the skin perfectly moisturized
Provides immediate comfort
Respects the skin balance of all skin, even the most fragile

100% of moms noticed that the gentle cleansing milk perfectly cleanses while leaving baby's skin moisturized and perfectly protected (15-day usage test, in 15 children aged 5 to 36 months).
BIOLOGICAL MODE OF ACTION
ABCDerm Lait Nettoyant is developed in accordance with the ABCDerm high-safety and high-tolerance formulation charter.
This creamy, non-rinse cleansing milk effectively eliminates dirt particles from the nappy area, skin folds, face and hands of babies and children.
INSTRUCTIONS FOR USE
Several times a day - 7 days a week
Apply on a cotton pad and thoroughly cleanse the skin.
Re-apply until the cotton pad becomes clean.
Do not rinse.
May be used on newborns, with the exception of premature infants. For hygiene reasons, close the product tightly after using.
YOU MIGHT ALSO BE INTERESTED IN:
 

ABCDerm Cleansing Foaming  Gel

A daily gentle soap-free cleansing gel for babies

 

 

ABCDerm Hydratant

Daily baby care for soft and supple skin

 

ABCDerm Change intensif

A water-based paste that repairs nappy rash

 

ABCDerm Peri oral

The only treatment for irritation around the mouth that combats the irritating action of saliva
TIPS FOR BABIES WITH VERY DRY AND ATOPIC SKIN
- Every day or every other day, give him or her a bath in warm water. It should not be more than 35°C because dry skin does not like hot water. Do not use bubble baths or bath salts as these tend to dry out and irritate your child's skin.
- Wash your child using a mild, soap-free, fragrance-free cleansing product guaranteeing safety and tolerance, which will gently clean, soothe itching and prevent dry skin by limiting the proliferation of micro-organisms that can aggravate dry skin.
- Dry your child's skin very carefully, gently patting it, particularly the folds of the skin.
- Once or twice a day, generously apply a nourishing and protective treatment
guaranteeing safety and tolerance, which will soothe (to relieve itching) and prevent severe dryness by restoring lipids (to reinforce and rebuild the altered skin barrier) and limit the proliferation of micro-organisms that can aggravate eczema flare-ups.
- Avoid allergens likely to cause eczema flare-ups such as mites, pollen and animal hair and feathers.
- It is preferable to dress your child in cotton clothes as other fabrics, especially wool and synthetics, can irritate their skin.
- Choose a soft detergent and make sure you don't use too much to wash their clothes. Too much detergent may make their skin fragile. Don't forget to iron clothes, as they will feel softer.
- Make sure the temperature of your home and your child's room is not too warm (19 to 20°C). Otherwise, it could dry out the atmosphere and damage his skin.
Company description:
BIODERMA, DERMATOLOGICAL LABORATORY
A pioneer since the 1970's, BIODERMA has acquired unique expertise by placing biology at the service of dermatology.
A UNIQUE CONCEPT, BIOLOGICAL MIMETISM
Based on total respect for the skin, BIODERMA products imitate its natural biological mechanisms through their components and their modes of action. To formulate them, BIODERMA selects the purest active ingredients, using  molecules naturally found in the skin for better tolerance.