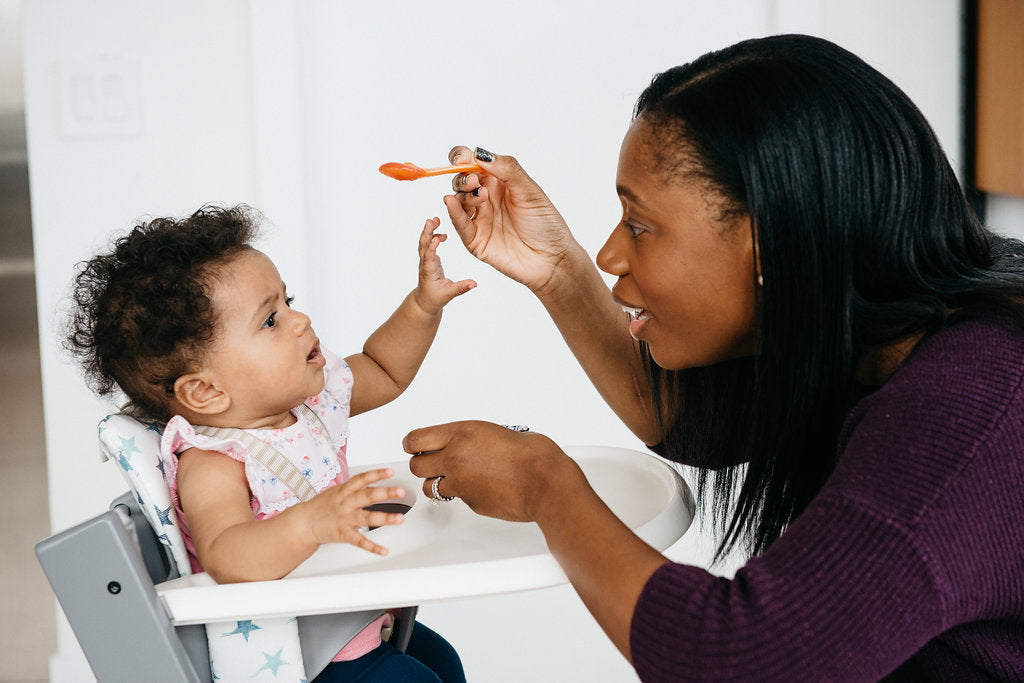 Embrace the mess! 10 tips to start your little one on solids!
Ready for solids? Watch for the signs! Your baby should be able to sit up without support. She also should open her mouth to show you she's interested in what you have to offer.
Pick the right time. Offer solid foods when your little munchkin is well-rested and start being hungry.
Serve fruits and vegetables on their own. No need to mask the taste of natural foods. You'll be pleasantly surprised at how adventurous your little one can be.
Introduce proteins. Pureed meat, fish, and other proteins like beans are good additions to the menu. They're full of iron and healthy fats that are perfect for your baby's development.
No honey for your honey. Avoid honey or processed foods with honey to babies younger than one year old. Honey can be contaminated with Clostridium

bacteria, which causes infant botulism, a potentially

fatal illness.

Texture in the mixture. When your baby is around 8-month-old, add a little texture to her meals to make her practice chewing. Try mixing a little quinoa, couscous, or pasta into your purees. It will add texture without creating a choking hazard.
Fats are fine. There are no restrictions on how much fat you can give a baby or toddler under the age of 2. Adding a teaspoon of olive oil, canola oil, or coconut oil to purees will provide essential nutrients while enhancing taste.
What about those allergens? Eggs, peanuts, and other potential allergens can be introduced one at a time to 6-month old babies with no family history of food allergies.
Mealtime is bonding time. Feeding provides a wonderful opportunity to bond with your baby. Take the time to tell her a little bit about the food and the ingredients in it.
No appetite? Not to worry. Your baby's appetite adjusts over the course of several days. Never force her and be patient; she'll let you know when and if she's hungry.
In need of some nice goodies to start on solids? Take a peek at our
Baby Food Sample Box
with some delicious and healthy essential items we know you'll love.