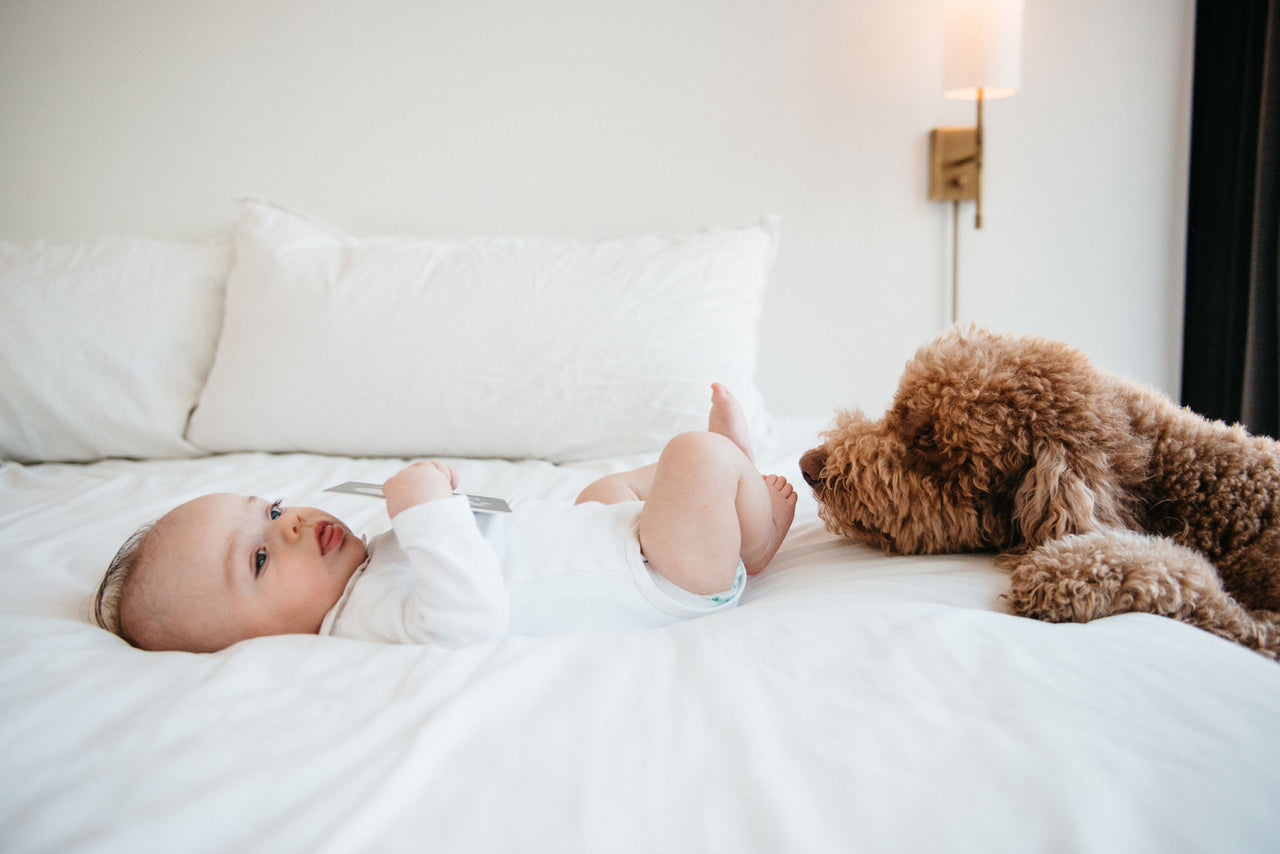 Choosing the baby monitor that is right for YOU!
Baby monitor technology has come a long way in the past 20 years. We're a far cry from tinny, static-y monitors of yore. 
But that means there are so many more options, and so much more overwhelm when it comes to deciding which one to get. 
We're breaking them all down to make understanding the tech (and which one might work best for you) a bit simpler. 
Why Get A Baby Monitor?
Being able to tell when your baby is sleeping, tossing, turning, or fussing without having to get up and check on them every few minutes is essential. 
It gives you a little more space to catch some Zzzs of your own or get something done around the house in those moments your baby is in dreamland. 
What Kinds of Baby Monitors Are There?
There are five basic categories of baby monitors, according to What To Expect: 
Audio Monitors 

Digital Monitors 

Video + Audio Monitors 

Wireless Network Monitors

Movement Monitors 
Each type has benefits (and drawbacks), and not every type will be practical for every parent. Here's what each kind of baby monitor does and why it may be a good choice. 
Audio Monitors 
Sound-only monitors are the simplest kind. They transmit noises from your baby without any other bells or whistles. 
While these can be the most cost-efficient baby monitor, it's worth paying a little more in this category. That's because higher quality audio monitors are better at minimizing background noise so you can hear the baby better. 
Digital Monitors
Though they may seem similar, the technology in digital monitors is more advanced than the tech in audio baby monitors. 
With a digital baby monitor, signals are encrypted which makes them way less likely to be picked up outside your house. 
Digital monitors are a bit more expensive than audio monitors, but you get better tech and a little more security for the price. 
Video + Audio Monitors
For parents who want to see their sleeping baby on the receiver, monitors with audio and video are a great choice. Using a small camera with a view of the crib, parents can view their baby catching Zzzs (or waking up). Just be sure to get one that has strong night-vision capabilities. 
Wireless Network Monitors
Want to ditch a clunky receiver? This category of digital baby monitors uses your home wifi network to send the monitor's signal to your tablet, phone, or computer. 
Movement Monitors 
Unlike the other kinds of baby monitors, this kind uses a motion-sensitive pad that slips under the mattress of a bassinet or crib. 
While no studies show motion monitors are any more effective at preventing SIDS (and the American Academy of Pediatrics does not have a formal recommendation about them), some parents may find they provide added peace of mind. 
Features to Look For
No matter what kind of monitor you choose, make sure to check for these features. 
Silent Light




A light-up alert on the receiver so you can see you if your baby is crying even if the system is muted

DECT technology




Monitors with DECT provide better audio quality. They use a lower frequency exclusively for voice communication.

A clear, visible low battery sign




Most monitors have rechargeable batteries. This means you'll want a prominent recharge indicator so you never have to go without yours. 

Portable receiver (and more than one for big houses)




To keep tabs on your baby from anywhere in your home, choose a monitor that has a cordless or portable receiver. If you have a big home, you'll probably more than one, too. 
Sound activation
Choosing a model where the speaker turns on only when your baby makes a noise will keep you from having to listen to a low hum of ambient noise whenever you use it.