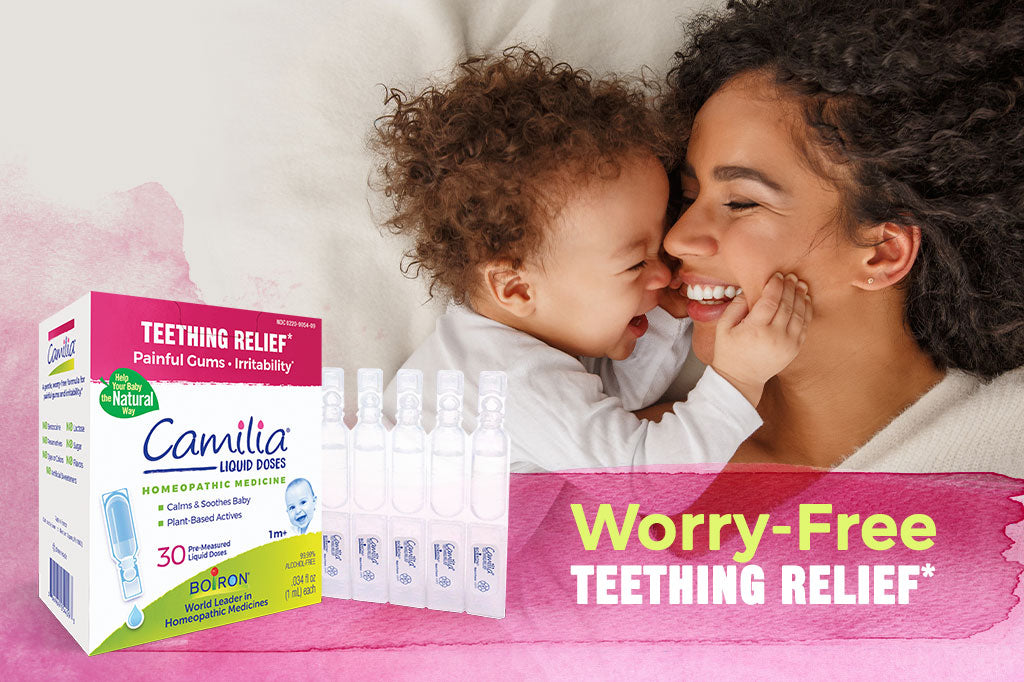 20% OFF Camilia Teething Relief
Use code NOOBIE20 for 20% off Camilia Teething Relief 30 dose on our website Shop.BoironUSA.com.
Camilia is available in boxes of 15 and 30 pre-measured liquid doses.
 Your baby's transformation from a gummy smile into a mouthful of shiny teeth doesn't have to be a painful experience. Boiron Camilia provides targeted relief of painful gums and irritability with traditional homeopathic medicines rather than general pain relievers or numbing agents.* It also helps with minor digestive upsets sometimes associated with teething.*
Made plant-based active ingredients, including chamomile.
Does not contain benzocaine, so it will not interfere with nursing.
Available in a hygienic liquid dose, so there's no need to rub on gums.
A Worry-Free Solution
Our liquid doses make giving medicine easier. Simply squeeze the small, pre-measured amount into your baby's mouth. The clear, unflavored liquid is absorbed sublingually.
Conveniently pre-measured for controlled dosing.
Travel-friendly size and easy to keep in purses, diaper bags, or pockets.
Gentle formula is free of preservatives, dyes, lactose, sugar, and artificial sweeteners.
 Look for Boiron's other liquid dose medicines for the littlest members of your family, including ColicComfort® for gas and colic relief and ColdCalm® Baby for cold symptoms. Visit CamiliaTeething.com to learn more.
*Claims based on traditional homeopathic practice, not accepted medical evidence. Not FDA evaluated.